Posted: How John Turner prepared to debate free trade
Article content
Welcome to your Weekend Posted. We used up our warning last weekend about getting your Christmas shopping done early. But we'll reiterate it anyhow, because really, do you even listen to us? You should. This newsletter is a font of wisdom.
Article content
THE LIFE OF JOHN TURNER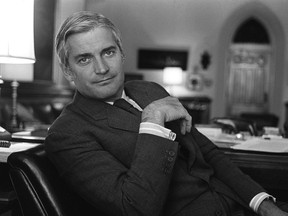 John Turner is perhaps best known for facing off against Brian Mulroney in the debates over free trade. The former Liberal leader lost that argument — and lost the 1988 election. But the video of the debate is well known around Canada. Steve Paiken, the host of The Agenda, a current affairs program on TVO, has a new book out on Turner, entitled John Turner: An Intimate Biography. In an excerpt published in the National Post, Paiken documents the way Turner prepared for that famous debate. Funnily enough, after the debate, people seemed to think Turner, who had been labouring on through terrible back pain, had won. Also, in case you didn't know, it turns out Turner and Mulroney were friends from their lawyer days in Montreal. Turner, Paiken reports, had brought on stage his illegibly scrawled notes from his debate prep. "Hope and fear. First hour important. Polite but on offensive. Modulate all the way through," the memo said.
Article content
---
RUSSIAN DRONES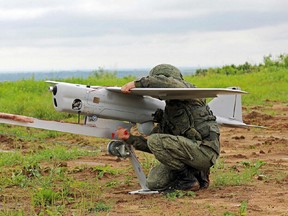 Russian drones have played a critical role in Vladimir Putin's war against Ukraine. That the drones exist at all is due to a secretive supply chain that evades international sanctions to supply Russian soldiers with weapons. This supply chain includes Toronto. Asia Pacific Links Ltd is a company based in Hong Kong that is responsible for supplying parts to Russia, according to an investigation between Reuters and iStories, a Russian media outlet, along with the Royal United Services Institute, a defence think tank in London. But Anton Trofimov, the owner of Asia Pacific, lives in Toronto, the report concludes. While Trofimov didn't comment to the journalists, the piece details the organizations that are a part of the industry that is ensuring Russia remains well-armed as it fights against determined Ukrainian resistance.
Article content
---
National Post News Quiz
Ready to test your mettle against the news of the week? We bring you another edition of the National Post news quiz. A hint, because we like you: Look up the menu on the Governor General's flight that cost an eye-popping $100,000.
---
ET CETERA
The Justice Centre for Constitutional Freedoms rocketed into the limelight when it fought against COVID-19 public-health measures. But the legal advocacy group, which saw millions in donations, is now cutting staff because, as the pandemic eased, donations dropped off.
Would you like a beer with that hotdog? In Ontario, 7-Eleven stores will soon start selling beer and wine, although it's not what you'd have expected. Alcohol will be served to those who choose to "dine in."
Ontario's top doctor has waded into the "immunity debt" debate. While Dr. Kieran Moore says the issue needs more study, he said it makes sense that pandemic-era measures like masking are a factor in the huge numbers of children falling ill this year.
The European Union has threatened sanctions against Elon Musk as the billionaire Twitter owner bans journalists who are critical of him. Musk will soon have to contend with European content moderation laws that come into effect next summer.
Pablo Rodriguez, the heritage minister, says Meta is trying to intimidate Canadians with its threats of removing news content from Facebook. The comments came after the House of Commons passed Bill C-18, the Liberals' bill that aims to force social media companies to compensate news organizations. "Me, if I were Facebook, I would change my strategy. It won't pass with Canadians," Rodriguez said.
---
DEAR DIARY
In the weekly satirical feature Dear Diary, the National Post re-imagines a week in the life of a newsmaker. This week, Tristin Hopper takes a journey inside the thoughts of NDP Leader Jagmeet Singh: If you allow health care to crumble, you besmirch the memories of the thousands of Canadians who have fought and died on foreign battlefields to uphold our singular national mission of free health care for everyone at all times without exception.
---
SNAPSHOT