Navigating Avadel's Potential And Risks With Lumryz (NASDAQ:AVDL)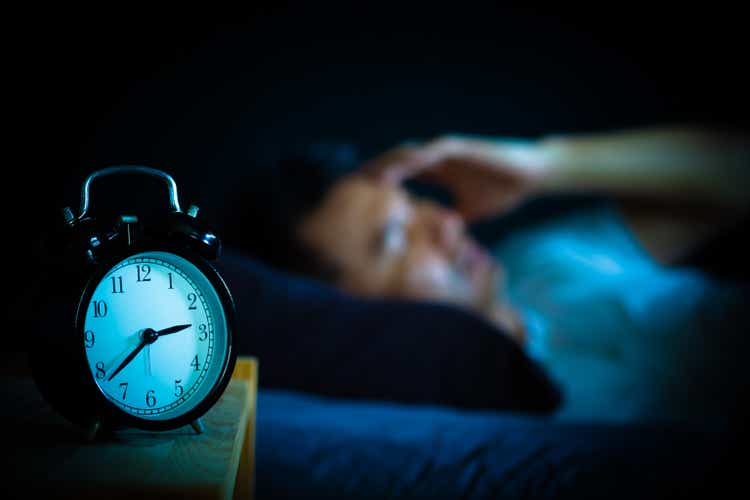 Introduction
Avadel Pharmaceuticals (NASDAQ:AVDL) is a pharmaceutical company with a lead product candidate called Lumryz, also known as FT218. Lumryz is an investigational extended-release formulation of sodium oxybate used to treat excessive daytime sleepiness [EDS] and cataplexy (sudden muscle weakness while awake) in adults with narcolepsy.
On July 18, 2022, Lumryz received tentative approval from the U.S. Food and Drug Administration for the treatment of cataplexy or excessive daytime sleepiness in adults with narcolepsy. However, the final FDA approval is pending due to the REMS Patent listed in the FDA's Orange Book. The Delaware Court ordered Jazz Pharmaceuticals to delist the REMS Patent on November 18, 2022, but Jazz appealed the decision to the U.S. Court of Appeals for the Federal Circuit. On February 24, 2023, the court denied Jazz's appeal and mandated them to delist the REMS Patent within 14 days. Once Jazz files the request for delisting, Avadel will seek final FDA approval for Lumryz. The decision on final FDA approval could happen on or before the expiration of the REMS Patent on June 17, 2023. However, the tentative approval is subject to change based on any new information the FDA may receive, and the drug cannot be marketed until final approval is granted.
Financials
To begin, let us examine the most recent financial report from Avadel. In the quarter ending on September 30, 2022, the company's research and development expenses decreased to $2.9 million when compared to the same period in 2021. This decrease was due to reduced costs associated with the production of Lumryz, as well as lower compensation expenses. Similarly, Avadel's selling, general, and administrative expenses decreased to $14.1 million during the quarter due to reduced costs in areas such as marketing, compensation, medical affairs, and consulting fees. However, these savings were partially offset by higher legal expenses. Avadel reported a net loss of $20.1 million for the quarter, equivalent to ($0.33) per diluted share, compared to a net loss of $22.0 million or ($0.38) per diluted share in 2021. As of September 30, 2022, Avadel's total cash, cash equivalents, and marketable securities amounted to $106.5 million. Additionally, the company held convertible debt of $26.4 million and $117.4 million, with the former maturing in February 2023 and the latter in October 2023.
Introducing Lumryz: An Investigational Once-at-Bedtime Treatment of Cataplexy and EDS in Adults with Narcolepsy
Lumryz is an investigational once-at-bedtime, extended-release formulation of sodium oxybate that utilizes proprietary Avadel's drug-delivery technology for the treatment of cataplexy or EDS in adults with narcolepsy. It is differentiated from the currently available immediate-release sodium oxybate (Xyrem), which requires twice-nightly dosing and is only approved for cataplexy or EDS in narcolepsy patients in the US and for cataplexy in Europe. Sodium oxybate is a salt of an endogenous compound and metabolite of the neurotransmitter gamma-aminobutyric acid. This medication is believed to improve symptoms by increasing slow-wave sleep and consolidating night-time sleep, which can reduce the frequency and duration of daytime sleep attacks. As a salt of an endogenous compound and metabolite of the neurotransmitter gamma-aminobutyric acid, sodium oxybate works by enhancing the inhibitory effects of gamma-aminobutyric acid on the central nervous system. By increasing the activity of this neurotransmitter, sodium oxybate can help regulate the sleep-wake cycle and promote more restful sleep, leading to improvements in narcolepsy symptoms.
Understanding Narcolepsy: Symptoms and Treatments
Narcolepsy is a neurological disorder characterized by EDS, cataplexy, sleep paralysis, and hypnagogic/hypnopompic hallucinations. It is caused by the loss of hypothalamic neurons that produce hypocretin/orexin, a neuropeptide involved in regulating wakefulness and sleep. Current treatments for narcolepsy include stimulants such as modafinil and armodafinil to promote wakefulness, and sodium oxybate to improve night-time sleep and reduce cataplexy. Antidepressants and other medications may also be used to manage specific symptoms.
Table of Pharmacotherapy Recommendations for Narcolepsy:
| Sleepiness Severity | First-Line Medications | Alternatives |
| --- | --- | --- |
| Mild to Moderate | Modafinil, Armodafinil, Pitolisant, Solriamfetol | – |
| Severe/Disabling | Oxybates | Solriamfetol, Methylphenidate, Amphetamines, Medication Combinations |
| Residual Cataplexy | Serotonergic Antidepressant (Venlafaxine), Pitolisant | Oxybates |
Note: Selection of medication is individualized based on factors such as symptom severity, comorbidities, and medication efficacy, side effects, and cost. Medication combinations may be necessary for some patients.
Xyrem and Xywav: FDA-Approved Oxybate Therapies with Growing Revenue Potential
Xyrem is an FDA-approved medication used to treat EDS and cataplexy in narcolepsy patients. Xywav, another oxybate therapy with less sodium than Xyrem, was approved by the FDA in 2020 for cataplexy or EDS treatment in patients over seven years old. In August 2021, Xywav became the first and only therapy approved for idiopathic hypersomnia in adults. Both drugs are subject to REMS programs due to their potential for abuse as CNS depressants, but this hasn't significantly impacted their revenue potential. In 2022, the combined oxybate business saw a 10% increase in net product sales, reaching $1,978.9 million.
Lumryz Shows Meaningful Improvements in Narcolepsy Patients in Phase 3 Clinical Trial REST-ON
Lumryz was studied in a Phase 3 clinical trial known as REST-ON, where patients who received a once-at-bedtime dose of Lumryz showed statistically significant and clinically meaningful improvement in the maintenance of wakefulness test, clinical global impression-improvement, and mean weekly cataplexy attacks compared to placebo. Lumryz is generally well-tolerated, with common adverse reactions such as nausea, vomiting, and somnolence. Lumryz is different from Xyrem/Xywav as it is dosed once at bedtime, whereas Xyrem/Xywav are dosed twice at night. Additionally, Lumryz demonstrated improvements in disturbed nocturnal sleep and a decrease in the number of nocturnal arousals, as well as improvements in the Epworth Sleepiness Scale, quality of sleep, and the refreshing nature of sleep. Finally, Lumryz was associated with decreased body mass index compared to placebo, which may be relevant for patients with narcolepsy who have co-morbid obesity.
Insights from the RESTORE Study on Patients with Narcolepsy
The RESTORE study is an important investigation into the safety and efficacy of Lumryz for patients with narcolepsy who were previously enrolled in the REST-ON study, as well as for patients switching from twice-nightly sodium oxybate to once-at-bedtime Lumryz. The study criteria were expanded in May 2021 to include oxybate-naive patients, making it even more crucial for Avadel to capture a larger market share with Lumryz.
During the interim data presentation, it was revealed that a high proportion of patients who switched from taking twice-nightly sodium oxybate formulations had difficulty taking the second dose of the medication. This highlights the importance of considering patient preferences when determining the most effective dosing regimen for a medication. The fact that 92.5% of these patients preferred the new once-at-bedtime dosing regimen emphasizes the need for a more convenient dosing option.
Moreover, the data showed that most patients who switched from taking twice-nightly sodium oxybate formulations were able to maintain a stable dose equal to their starting dose. This is important for improving treatment outcomes and ensuring patient adherence to the medication regimen.
Interestingly, the study also found that participants who were not currently taking sodium oxybate formulations or were oxybate naive were able to reach a stable dose with only 2-4 dose titrations within a period of just four weeks. This demonstrates the potential effectiveness of Lumryz for patients who are new to this treatment, which could be an important consideration for Avadel to capture more market share. Overall, these findings highlight the importance of patient preferences and medication adherence in improving treatment outcomes and the potential benefits of Lumryz for patients with narcolepsy.
Avadel's Lumryz Likely to Receive FDA Approval, But Risks Remain for Future Success
I believe Lumryz has a strong likelihood of obtaining final FDA approval as it has met all necessary quality, safety, and efficacy standards and has already received tentative approval. However, the disposition of the REMS Patent listed in the FDA's Orange Book could cause a delay, but a recent decision by the U.S. Court of Appeals for the Federal Circuit may expedite the approval process. Avadel may capture a significant portion of the narcolepsy market due to Lumryz's convenience and market exclusivity (orphan designation), but it is not without risks.
One significant risk is related to Lumryz's FDA approval status. While Lumryz has been granted orphan designation and completed a Phase 3 clinical trial, it is still awaiting FDA approval. There is always a risk that the FDA may not approve Lumryz, which would severely impact Avadel's financial prospects.
Avadel not only faces regulatory risks but also legal risks as indicated by the increase in legal costs reported in their financial data, which suggests that the company may be dealing with ongoing legal disputes or regulatory issues. Adverse outcomes from these, or future, proceedings could have significant financial implications for the company.
Another risk for Avadel is related to the competitive landscape in the narcolepsy treatment market. Jazz Pharmaceuticals is one of Avadel's primary competitors, and the company has a well-established presence in the market with its sodium oxybate product, Xyrem/Xywav. If Lumryz is approved by the FDA, it will be competing directly with Jazz's product, and Jazz may choose to aggressively defend its market share through marketing and pricing strategies.
Avadel is currently facing a considerable debt obligation, with convertible debt totaling over $143 million set to mature in 2023. Failure to repay this debt or extend the maturity dates could have a significant impact on the company's financial stability and ability to continue operations. Additionally, with the anticipated commercial launch of Lumryz approaching, Avadel may experience an increase in selling, general, and administrative costs. Given these circumstances, it is unlikely that Avadel will achieve profitability prior to requiring additional funding. As a result, the company may need to resort to share offerings to meet its financial obligations.
Overall, while Avadel has significant potential with Lumryz, investors should be aware of the regulatory, legal, competitive, and financial risks associated with the company. It is crucial for Avadel to address these risks effectively to ensure the company's long-term success.
Avadel's rating is "Hold" while it pursues FDA approval, manages its debts, and obtains sufficient funding for the launch of Lumryz.