HYEM: Not The Right Time To Buy (NYSEARCA:HYEM)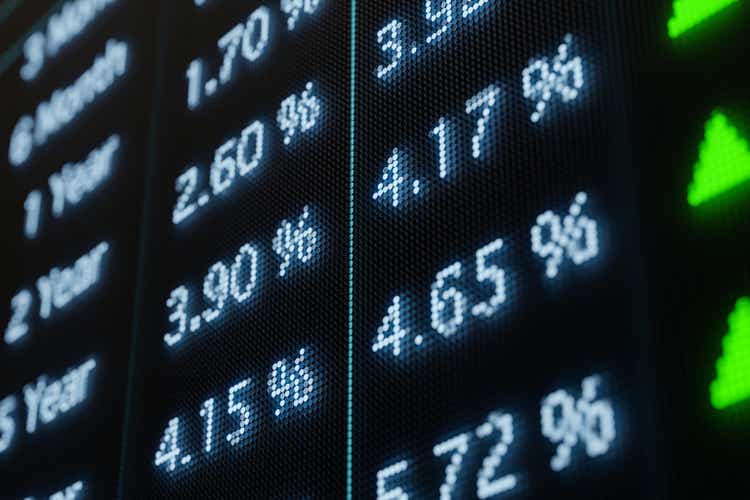 Introduction
Searching for yield has been the main rhythm for many income investors due to the low-rate environment in the past decade. However, things changed dramatically last year as rates have risen dramatically due to high inflation. In this new environment, are high yield bonds still worth investing in? We will analyze VanEck Vectors Emerging Markets High Yield Bond ETF (NYSEARCA:HYEM) and help investors make better investment decisions.
ETF Overview
HYEM invests in non-investment grade bonds in the emerging markets. The fund currently pays a yield north of 8.5%. However, bonds in its portfolio have lower credit qualities and have a lot higher default rates than investment grade bonds. Therefore, HYEM will likely see its fund price decline more in the long run. Given macroeconomic uncertainties in 2023, we do not think investors need to buy this fund right now.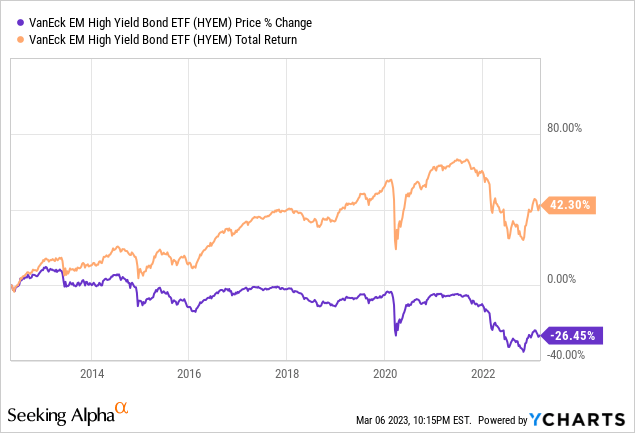 ETF Analysis
HYEM underperformed other investment grade bond funds
HYEM did not performed well in 2022. In fact, the fund's price has dropped by about nearly 18% since the beginning of 2022. The aggressive rate hikes by central banks around the world were the primary reason behind HYEM's decline. To combat inflation, these central banks have no choice but to tighten their monetary policies. The consequence of this is a significant decline in the bond market.
Not a long-term investment choice
High yield bonds are often called non-investment grade bonds because investing in these bonds often come with higher risks. As can be seen from the chart below, only about 3.5% of HYEM's total portfolio consists of investment grade bonds. The rest of HYEM's portfolio consists of non-investment grade bonds. About 55.3% of the bonds are BB-rated bonds, the highest rated non-investment grade bonds. About 26.3% of its portfolio belong to B-rated bonds.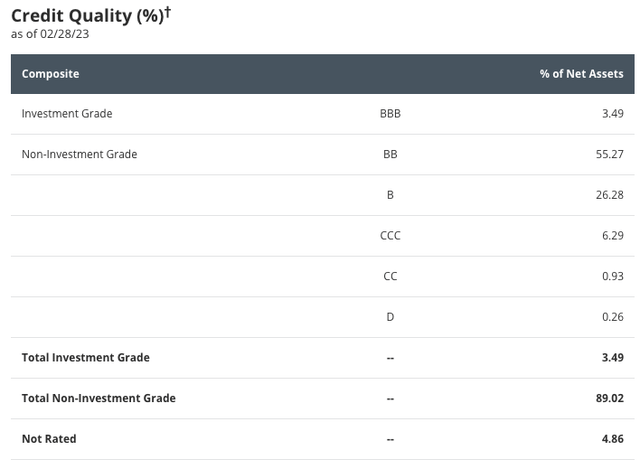 Non-investment grade bonds tend to have a lot higher default rates than investment grade bonds. According to S&P Global, AAA, AA, A, and BBB-rated bonds have average one-year default rate of 0%, 0.38%, 0.39%, and 1.02% respectively. In contrast, BB, B, and CCC/C-rated bonds have default rates of 4.22%, 13.84% and 49.28% respectively. One thing worth noting is that HYEM's portfolio includes about 7.5% of CCC, CC, and D bonds. They were most likely assigned these ratings due to their poor financials and are more likely to run into troubles when facing headwinds. Therefore, these types of bonds are the most vulnerable bonds especially in an economic downturn.
No wonder HYEM's fund price tends to be in a long term structural decline. As can be seen from the chart below, the fund has lost nearly 33% of its total value since its inception in May 2012. If not due to its high yields of 8.57%, its total return in the past 10 years would also be negative.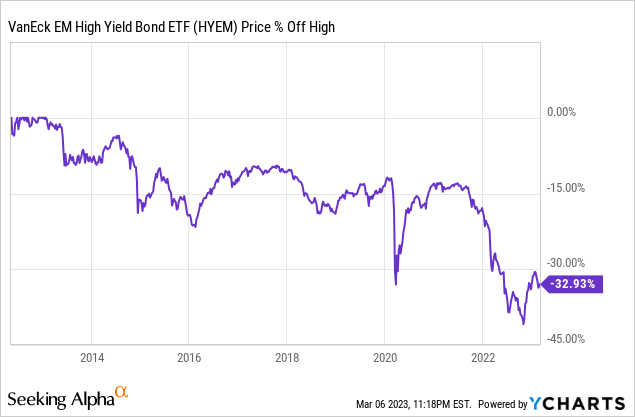 Should investors buy HYEM now?
We believe the best time to buy high yield bonds in the emerging markets is when the global economy sees light at the end of the tunnel. In other words, the recession is about to be over and the global economy prepares to enter the growth phase. At that time, the market's fear should subside, and the market's risk appetite should improve. Riskier assets such as emerging market bonds in HYEM's portfolio will have bottomed towards the end of the recession. In addition, companies that cannot withstand economic headwinds will have defaulted already. Therefore, at that point the risk of owning emerging market bond funds should have been reduced substantially especially when the recession is about to be over.
The problem with buying HYEM right now is that the global economy hasn't even entered a recession yet. Meanwhile, high inflation has caused central banks around the world to raise rates to combat inflation. We estimate that this tightening cycle is not near the end due to persistent inflation. In fact, rates around the world will likely be kept elevated beyond 2023. The longer it takes for the rate to drop, the more stress it will put on companies with poor balance sheets. HYEM's portfolio of lower credit rating bonds appears to be quite vulnerable in this environment. In addition, we expect this elevated rate environment will eventually tip the global economy towards a recession. In this potentially upcoming recession, high yield bond funds such as HYEM may see even sharper declines. On the contrary, funds that focus on U.S. treasuries or investment grade government bonds should do relatively well compared to HYEM.
Investor Takeaway
Although investors may earn an attractive yield, HYEM's fund price is expected to decline in the long run. In addition, downside risk is still high as we have not yet even entered a recession. Therefore, we think investors should patiently wait on the sidelines.
Additional Disclosure: This is not financial advice and that all financial investments carry risks. Investors are expected to seek financial advice from professionals before making any investment.