Exxon: Time To Buy, Sell Or Hold? (NYSE:XOM)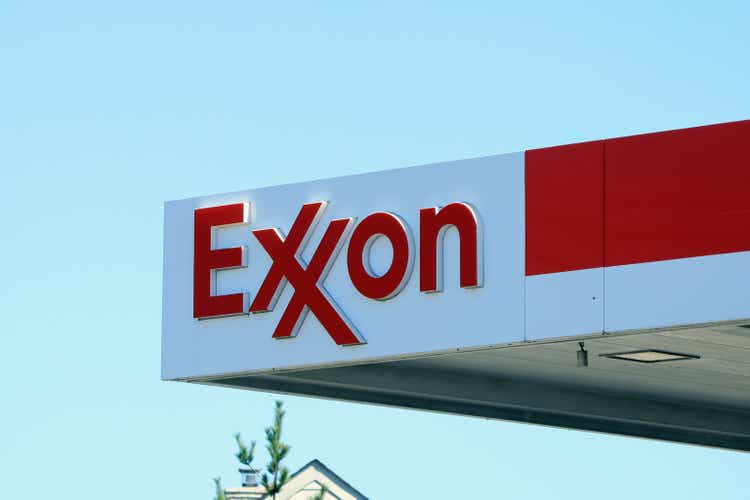 Overview
Exxon Mobil Corporation (NYSE:XOM) has seen a Total Return (including dividends) of more than 86% in the 14 months since January 1, 2022. That compares to a negative -14% for the S&P 500 (SPY). The question for investors at this point in time is if this is a reasonable increase or whether investors should be on the lookout for lesser performance going forward.

Exxon is the 2nd largest oil company by MV (Market Value) behind only Saudi Aramco (ARMCO).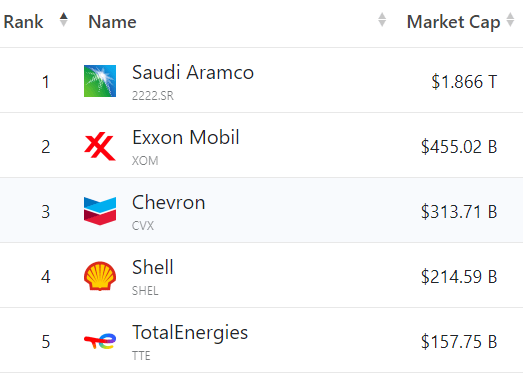 I have held Exxon in my Turnaround Stock Advisory portfolio since Sept. 28, 2020, when I bought it at $34.60 giving me a 244% plus total return since then. I explained why I bought Exxon in this article "Exxon Vs. Green New Deal: Buy Exxon If You Have A 5, 10 Or Even 20-Year Plan".
In this article, we will look at Exxon's prospects for the next year to try and determine the price direction out to 2024 as compared to the last year.
XOM Stock Key Metrics
Let's look at Exxon's financial metrics comparing the latest TTM (Trailing Twelve Months) with the previous year. We can make a reasonable comparison of today's value versus last year's value. Once we have made that comparison, we will make an attempt to see how the coming year may play out.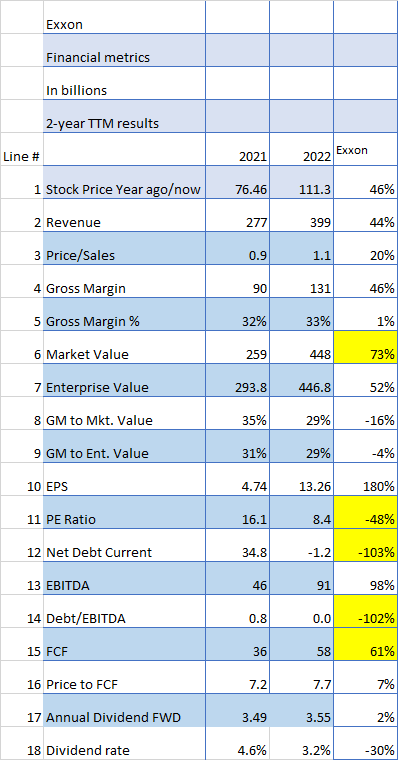 One quick look at the financial metrics table above comparing 2021 to 2022 shows enormous improvement in results for Exxon over that time period.
I have highlighted in yellow the items I consider the most important in terms of magnitude compared to the other items.
As we have already noted, Exxon's price (Line 1) has increased by 46% over the last 12 months. But when we look at the Market Value (Line 6), we see that even though the MV has surged by 73% the PE Ratio (Line 11) has dropped by almost half as earnings growth in 2022 exceeded even the rapid sales growth.
Net Debt (line 12) is now in a cash position i.e. cash on hand exceeds Exxon's entire debt. Also, note Debt/EBITDA (Line 14) is zero indicating a fortress-like balance sheet.
And finally, FCF (Line 15) surged 61% in 2022 over 2021.
With all of their 2022 financial success, an investor could question the rather meager dividend increase of 6 cents. Exxon's answer to that is an unprecedented $50 billion share buyback instead.
How Did Exxon's Share Price compare to oil prices?
A good way to visualize Exxon's price performance is to compare it to oil prices over the same period of time.
The chart below shows that despite a steady, consistent drop in oil prices over the last year, Exxon's share price soared.
This is a good indicator that Exxon's management team has control of costs and resources.

What Are Exxon's Recent Price Targets?
Market Beats has price targets from several sources, and all of these are from January 2023.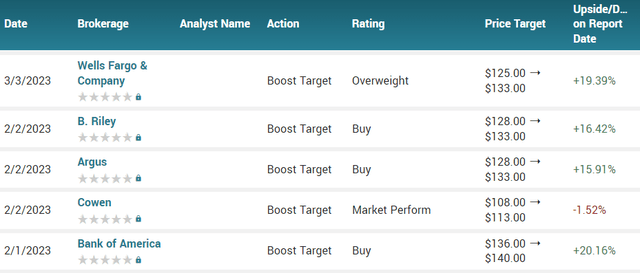 Note that all the most recent targets indicate a "Boost Target" price.
Comparing the historical ratings over the last year we can easily see that the number of Buy ratings has actually doubled from 8 to 16.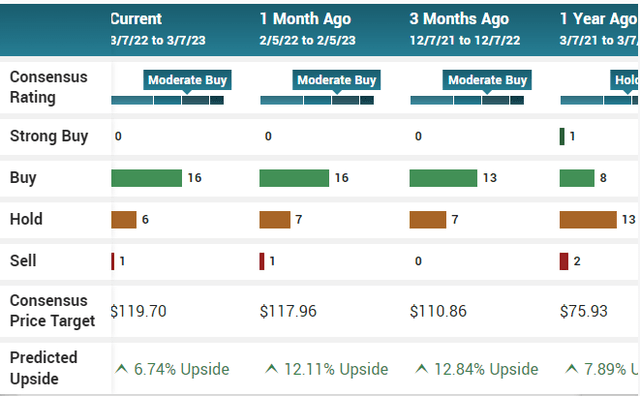 So there seems to be a common consensus that Exxon still is a good stock to buy.
What Do Other Analysts Think?
Wall Street and Seeking Alpha analysts are very positive on Exxon with 23 Buys versus only 3 Sells. Among those Buy recommendations are 9 Strong Buys, a very high number.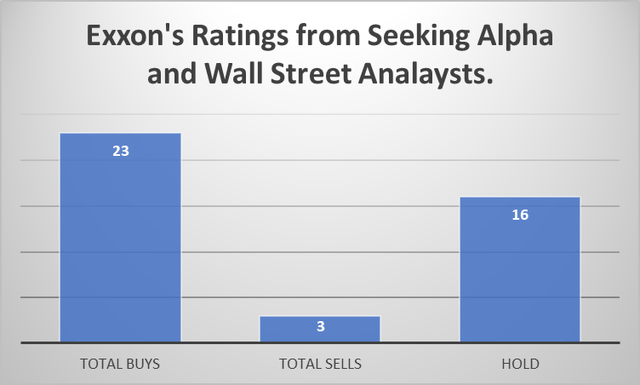 Quants are also positive about Exxon with a Buy rating. Over the last year, Quants have varied from a Buy to a Hold but there are no Sells on the chart over the last 12 months.

How Does Exxon Compare To Other Oil-related Stocks?
A legitimate question when looking at any stock is to compare its potential with other stocks in the same market sector. If we look at Exxon's performance over the last year and compare it to other stocks in the oil sector over the last year, we can see Exxon has done extremely well. Only BP (BP) outperformed it by 39% to 29%. BP was a surprise but with its CEO recently talking about backing off ESG commitments because of the poor return profile associated with ESG projects the stock surged.

Another good comparison is with Energy Select Sector SPDR ETF (XLE) which includes all the oil majors in one ETF.

It is easy to see that Exxon handily outperformed the sector in general 29% to 13% over the last 12 months.
Is XOM Stock A Buy, Sell, or Hold?
Obviously, there are risks with an Exxon investment. For example, if the oil price falls to $50 a barrel, Exxon will still generate huge amounts of cash flow but will certainly not be able to maintain its current share price even with the buybacks. The other big risk for oil companies is regulatory.
But based upon all the information above, it is easy to see that Exxon has become focused on improving results over a long period of time and is committed to rewarding shareholders with dividend increases and share buybacks.
So in spite of what may potentially be a problematic 2023 (see risks above), Exxon's bright future would be hard to deny. And at the current price, this is an opportune time to invest.
Exxon stock is a Strong Buy for long-term investors.